ODCC Kit 2015 – Online Store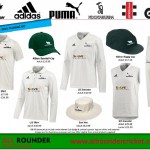 We're pleased to announce that our online store is now live, and can be used to order your own kit for the upcoming season. The kit is from Adidas and will be embroidered with the club badge and printed with our new sponsor SolveIT Solutions proudly displayed on the shirts. There will be a kit evening on the 21st April at the club to allow players to try on the kit for size – the evening is planned with the following timings:
Youth Kit fitting: 18:30-19:30
Adults fitting: 19:30-as long as it takes!
England Call up for Caunce
We're very pleased to be able to announce that Ian Caunce has been selected to play for England Over 60's against Australia this summer. Ian has been selected to play in the 2-day match to be played at Sunbury on 2nd/3rd July – many congratulations to Ian.